Bird Stamps Stock List
We have launched a new website birdstamps.online and this comprehensive new site specializes in Birds on Stamps and there are over 3,500 sets, sheets and singles (representing over 12,000 birds stamps) many of which have images available. The stamps are available to purchase directly from our new site using a secure checkout.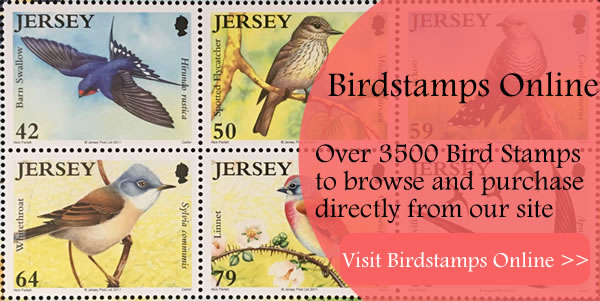 At Philatelic Supplies all our bird stamps feature on a comprehensive 68 page stock list. For 35 years we have supplied customers with new and recent birds on stamps. Our birds list is strongest in issues from the last 20 years but it does cover every country. We realise also that many bird species have featured multiply on stamps from many different countries, so we now highlight those birds which are "new to stamps". So whether your interests are Worldwide or just from one continent or species we can usually find something to interest you. From Argentina to Venezuela, from Algeria to Zimbabwe, from Aland to Vatican and Australia to Wallis et Futuna, we've got it covered.
Our worldwide stock also covers other areas of Fauna, so we have individual stock lists for Butterflies, Mammals & Reptiles, Shells, Fish & Marinelife and WWF, as well as Botanical themes, Fungi and Orchids. There are separate transport lists for Aircraft, Ships and Trains and finally the world of Minerals Music and Medicine are strongly represented on their own listings.
Please click here to view our bird postage stamp stock list (PDF format)
My bird stock list is updated on a regular basis. If you wish to be notified when they are next updated please send me your name and email address below.